---
For Dial and Antique Telephone Repair:
From antique to art-deco phones, Steve Hilsz of VTS has been in the antique telephone repair business for over 40 years. Whether you need a dial or touch tone pad repaired or rebuilt, he is the expert. Besides being a wealth of knowledge, he owns and operates original dial calibration equipment enabling him to return your dial or touch tone pad operating flawlessly to original factory specs. Additionally, he repairs 3-Slot Payphones, Wall Phones, Desk Phones and Candlestick Phones. His prices are very reasonable and his work truly amazing. Visit Steve at: www.navysalvage.com
---
Team Powder Coating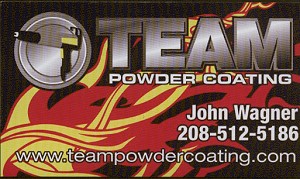 Needing some powder coating work done on a few phones, I met with John of Team Powder Coating. He graciously spent time with me explaining the process and his experience while showing me his shop. Consequently, I gave him a few Western Electric parts and waited. The results were fabulous...even considering I am a hard to please "purest" type collector with refinishing or re-plating almost dirty words. But when necessary, John is the man. Each time thereafter, I have had the same experience. Consistent color, matching closely to WE paint, excellent work and wonderful end product.
---
Antique Telephone Collectors Association:

Antique Telephone Collectors Association or ATCA, is the largest telephone collectors organization in the world. Chartered in 1971 as a non-profit corporation by the state of Kansas, its over 1500 active members are located throughout the United States, Canada, Europe, and Australia. The office is located near Abilene, KS.
---
Telephone Collectors International:

Telephone Collectors International is an organization of telephone collectors, hobbyists and historians who are helping to preserve the history of the telecommunications industry through the collection of telephones and telephone related material.
---